Bill and I planned a 4 day trip to a spot we have both been wanting to fish hard for some time. Once we arrive the strenuous unpacking begins. An hour and a half passes and the spread is set allowing us to finally prepare for the hit. The conditions were perfect for a big monster and all the previous experience was instilled. We came on a mission targeting sharks 10'+ and the last night the fight was on...an 10'8 Mako shark caught on the Everol 14/0 once again. After dumping in the cold water many times, we both toughed it out and our hard work payed off. The first day and night we came up with nothing. As the sun rose, we got out of the cot to re-set the spread. After a few hours go by, my T-RX 50w starts screaming. Once I hit he running man it was on, turned out to be about a 7' bull that spit the hook 20 yards from the leader touch. Soon after, Bill hooks up with a Sand Bar on his Tiagra 80w and once landed she swam back off strong. With two nice hook-ups we were both pumped and ready for more. The day passes and on into the night with no bite. Hours go by awaiting the big boy to go off...and it did around 12:30 A.M during our last night , the Everol 14/0 makes a nice solid run. I spring out of bed and run to my reel as Bill strapped me up to my harness. I knew it was a nice fish when it hit, after I knew she swallowed it...I set the drag, reeled all the slack out and hit her a few times. Instantly she starts burning line out with about 40-45lbs of drag on her. She makes a nice solid run as a I put the heat to her, finally she slows down and I crank like a mad man to keep that line tight, during the entire fight she made me drag every inch of her back in, bull doggin me. After she hit the sand bar 45 minutes later and I seen that dorsal and tail stick out, I had it in my mind it was another mako, but it was just too surreal. Bill readies for the leader and once he grabs it, the mako rips Bill around forcing him to hold her. I run down and put the rail rope on her to ensure the catch and after few pictures and measurements we struggle to send her out safely. There is nothing better than to watch that behemoth swim off freely. The final sunrise appeared as my Avet 80w starting running and it turned out to be a 7'3 tiger shark. The final measurements were 10'8 total with a 60 in girth. Bill is one of few partners that can handle the rigour of hardcore shark fishing. It was an amazing memory for us both. Before we started I told Bill we were going to build some memories and our dedication produced. It was such an experience to fish with firedawg and learn many things, as we both did together. There is much more to come!
The MONEY SHOT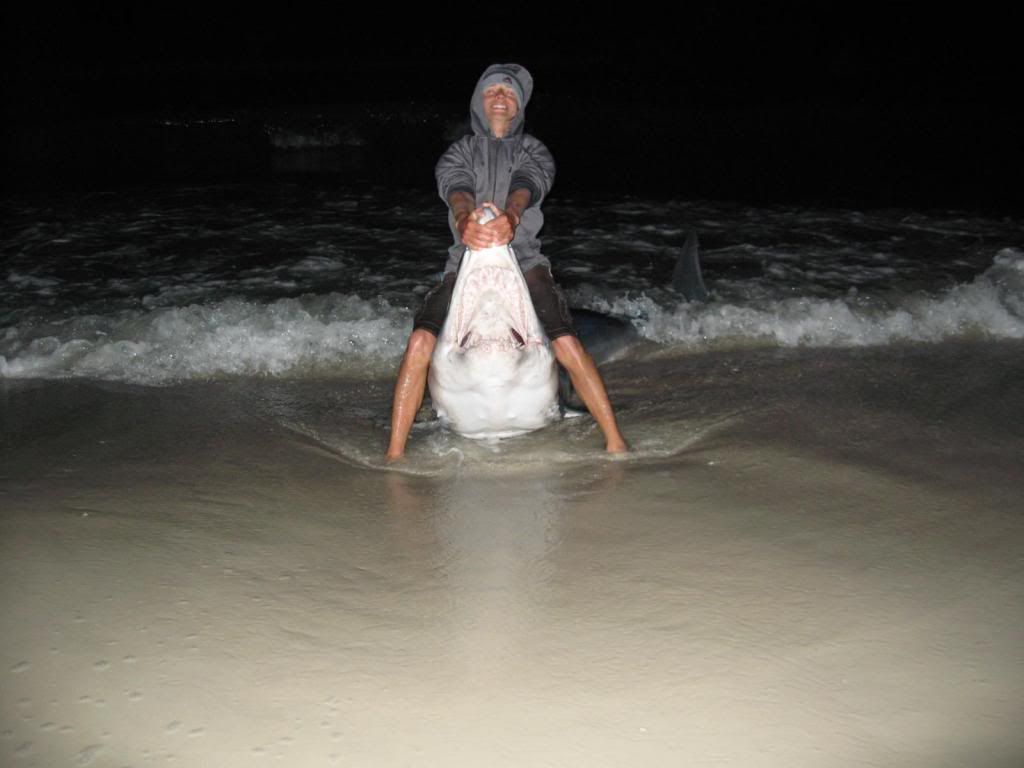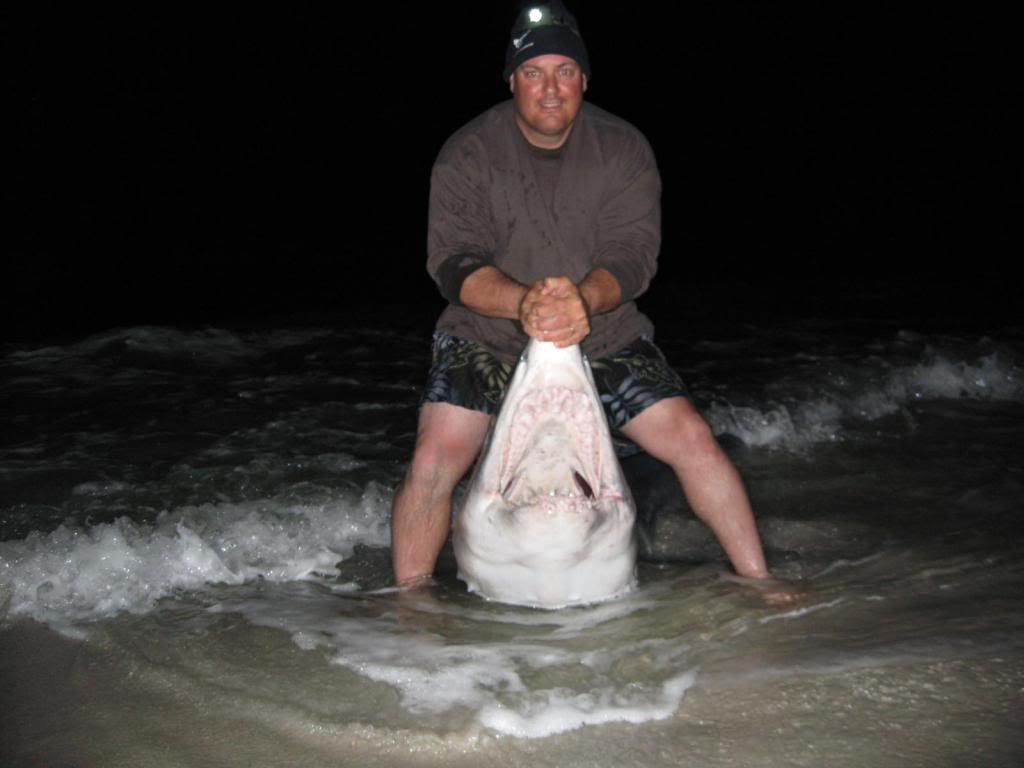 written by Bill Dunlop(FireDawg)courtesy http://www.sharksonthesand
Will and I have been talking about trying a beach that we drive by once in a while that has deep water, and quite a bit of boat traffic. I have fished this beach once before with good results. Will is the young man who just caught a 10' Mako a few weeks ago.We worked our butt's off gathering big baits for this trip, because our goal was to land a 10'+ shark. We had to haul quite a bit of gear to get to the spot we wanted to fish, and it wasn't close to where we parked either! We got dumped on the yak in that cold water more times than either of us would like to remember. It was cold, windy, wet, but we stuck it out for 4 days. We had our rods in the water 24-7 and fished hard! In the first two days Will caught a 7ft ish Bull that spit the hook at the shore, and I caught a 7ft ish Sandbar. We didn't take pictures of the SB because we decided early in the trip we wouldn't waste time on pics on anything under 8'. The third day we woke up to flat seas, clear water, decent weather, and not much action all day. Right before dark I was reeling in my surf rod, and saw what I thought was a Mako jump way out there. Will thought I was seeing things, but i know I saw a shark jump. At about 1am Will's 14/0 Everol (the one he just caught a 10' Mako on) starts going out, and we are hooked up to a big fish. During the fight I had to sit on the ground behind Will and hold his harness because this shark was pulling 40lbs of drag. After about a 45 min fight we see the sharks fin, but still can't tell what it was. As I'm coming down the beach to tail rope it, I grab the trace and scream Mako. Right about that time the shark goes crazy, thrashing her head, and spits the hook. Will spikes his rod and comes down to help, and somehow we get the tailrope on. What an awesome sight that cobalt blue body, huge eye staring you down, and those teeth. It was the most beautiful shark I have ever seen. After picture and measurement time we attempted the release. She was 10'8" with a 60" girth, and it took everything we had to get her back to deep water. Troy & Matzy you feels our pain!!! She swam away fine after only a few minutes of holding her face into the waves. As we were packing up in the morning Will's other rod gets hit, and he brings in a 7'3" Tiger, which would be the last shark of the trip. It was an awesome trip, and one I will never forget! When we were planning this trip, our one goal was target and land a 10'+ shark. Man, I love it when a plan comes together!!! I am going to have to add the pics in a few minutes from my laptop since this computer is giving me fits. It was an awesome trip with an awesome partner, and I can't wait to do it again!!!
The Everol 14/0 conquered the beast...AGAIN-